Rosecast Scientific Gold Financial Astrology prediction software
Have you ever wondered, which way a particular Stock , Commodity, or Stock Index, was going to perform over the next 15mins, 1 hour, 1 day or any longer time frame, that you wish to choose?
If the answer is Yes, you will be pleased to hear, that we can now release Rosecast Scientific Gold Software to the general public, the secrets of Financial Astrology revealed to those who wish to start a journey of a lifetime. This is not a get rich quick scheme, you will be required to learn how to trade the Financial Markets, you will also be required to have an understanding of Astrology, your own natal chart and when to trade, these are your decisions to take, but if you want to continue to Financial Freedom read on.
Rosecast Scientific Gold Astrology Software
Some of the amazing features of Rosecast scientific Gold software
Calculates all aspects, Trispects to the minute

Choose aspects of 0, 15, 30, 45, 60, 75, 90, 105, 120, 135, 150, 165, 180, 36, 40, 51,72, 80, 102, 108, 144, 161, 168 degrees

Calculates current transits or aspects to any Natal chart

Preloaded with natals of New York Stock Exchange, Euro, Bonds, Dax, Nasdaq, Pound

Calculates from 1 day to over 365 days

Choose hard or soft aspects between Venus, Jupiter, Mars or any combination of the 17 planets over any timescale

Choose Planets from the following Moon, Sun, Mercury, Venus, Mars, Jupiter, Saturn, Uranus, Neptune, Pluto, Vesta, Pallas, Juno, Ceres, Eris, Sedna, Mean lunar Node

Geocentric Longitude, Geocentric Right Ascension, Heliocentric Longitude and Heliocentric Right Ascension. The four major dimensions of financial astrology are covered.

Antiscias, Vetos, Right Ascension

Converts into excel format

Converts into graphs to find turning points, highs and lows and daily forecasts

Complete with 6 page instruction booklet
Order now securely with Paypal
Below you will a screenshot of what you will receive when you order Rosecast Scientific Software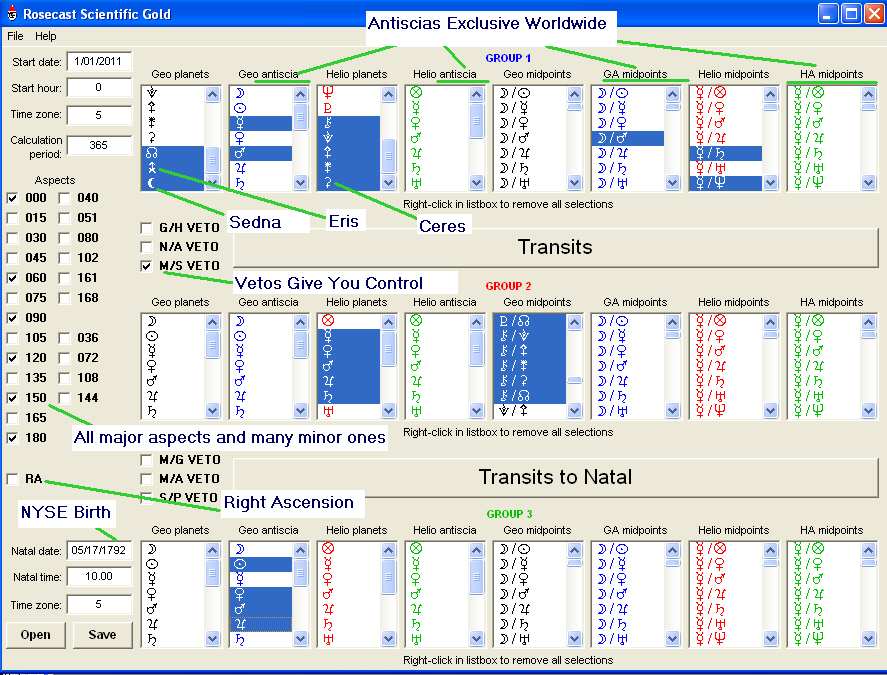 Say for an example you a Gold Trader, and you are looking for entry and exit points, how useful would it be to know in advance when to look for turning points?
This is the actual trading charts courtesy of Capital Spreads, match up the dates, you will be amazed what this software can do for your trading.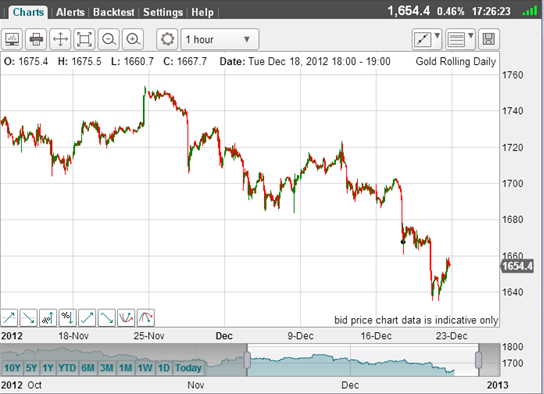 or if you are a Day Trader, what better than watching minute by minute turns that match your trading candlesticks! For every turn behind the curve there is a reason - either an Aspect or a Trispect or a Cluster of Aspects and Trispects. The software will not only produce the curve, but will show you minute exact Trispects and Aspects that produce the curve and that you can be used for minute-exact market entries and exits in various markets
Don't delay your Financial freedom any longer
Order now securely with Paypal